stay luxury
Room K
by bar hotel 箱根香山
広さ:85㎡
定員:2名
Floor space:85㎡
Number of guests:2 persons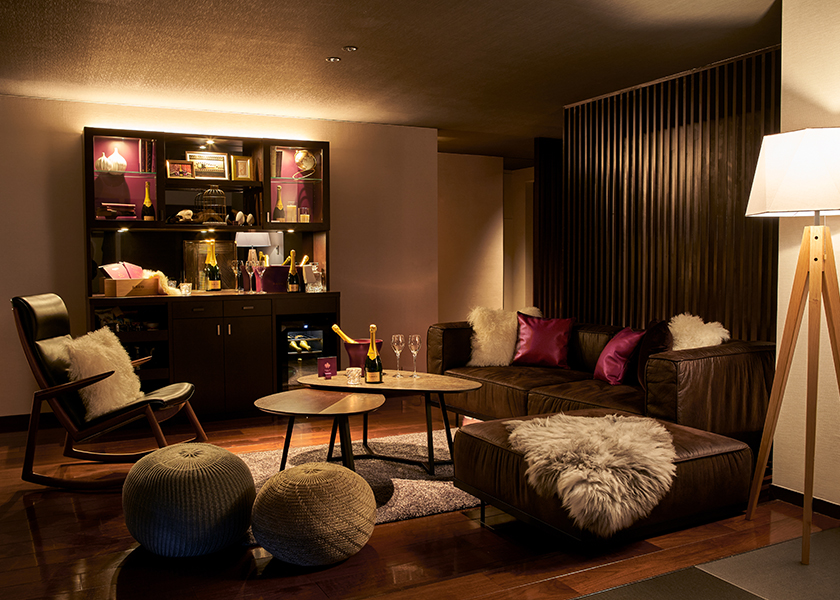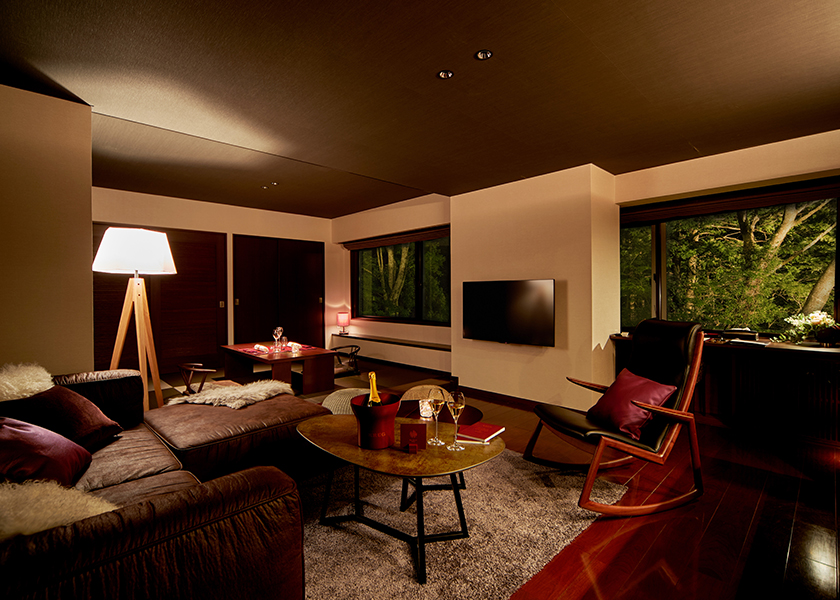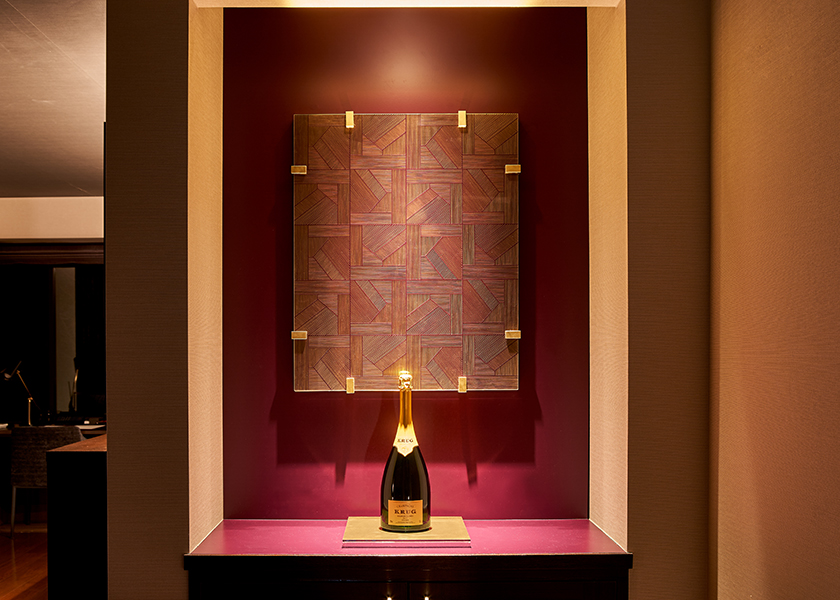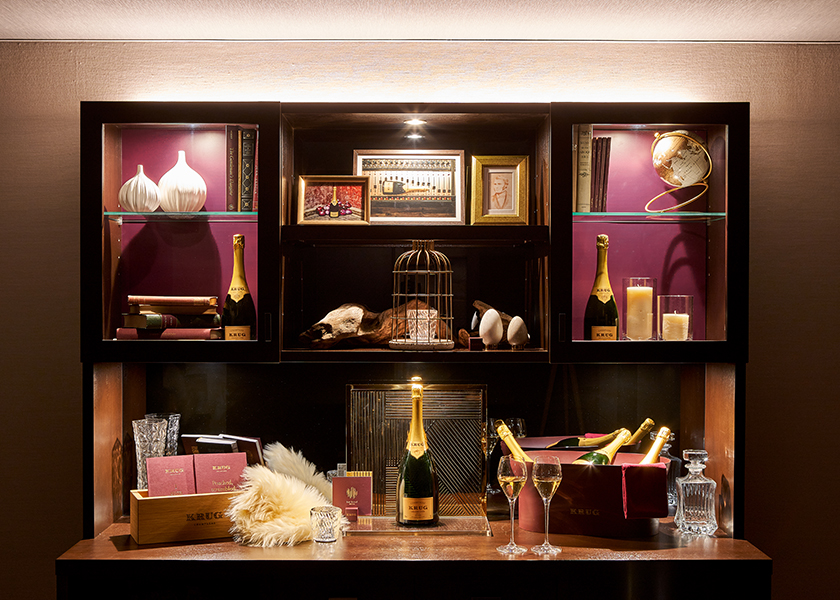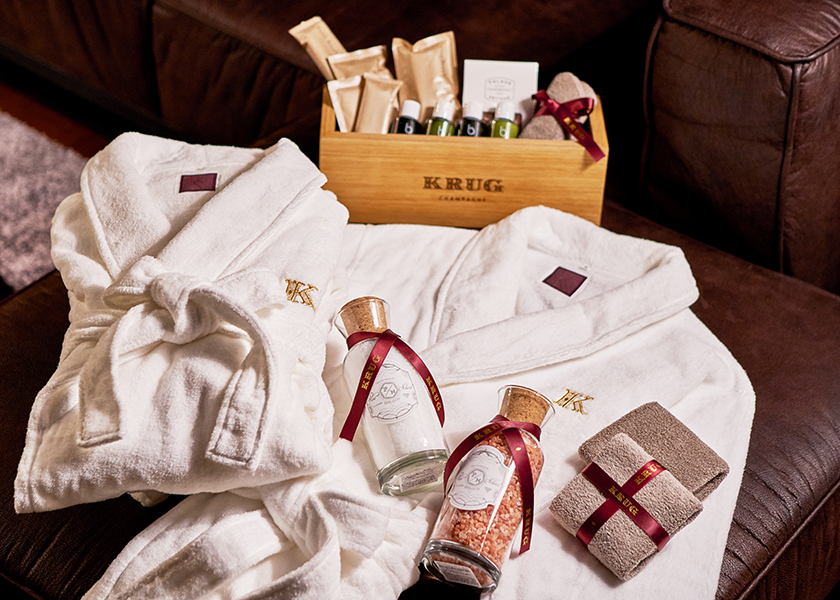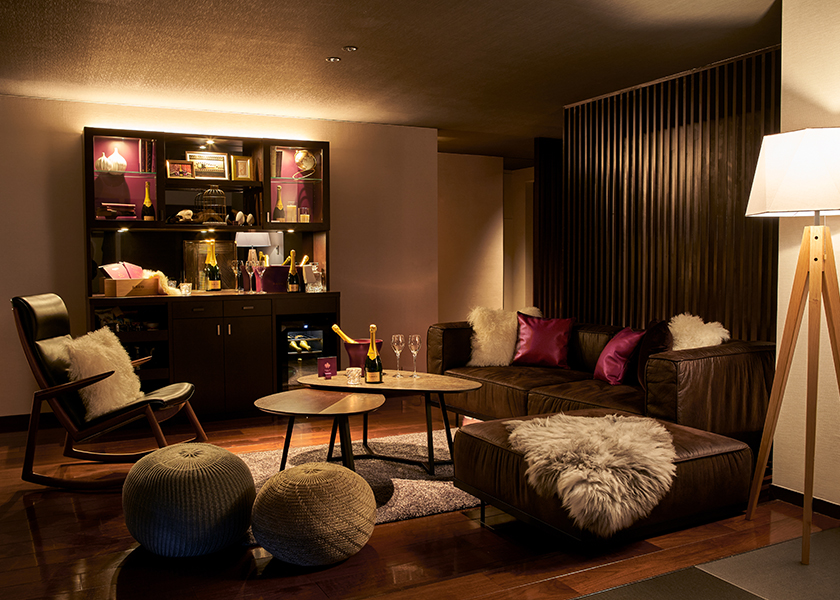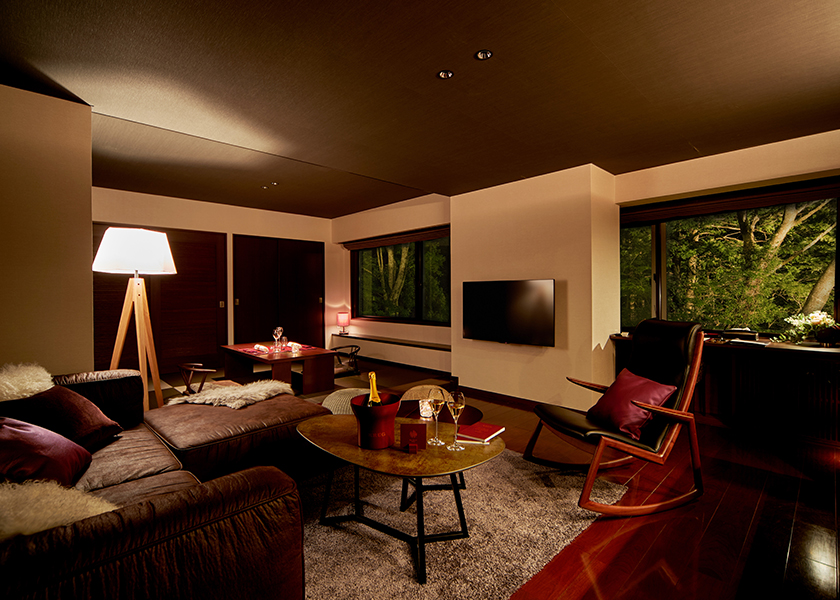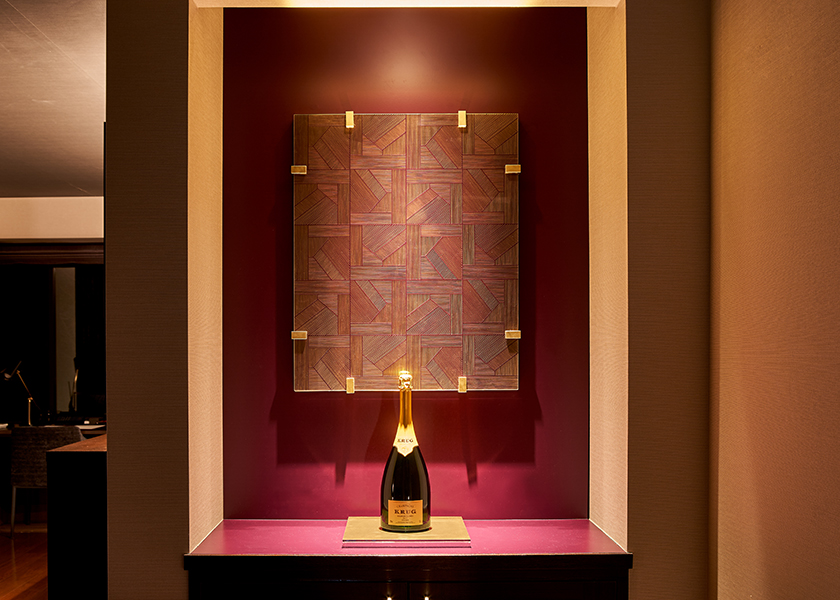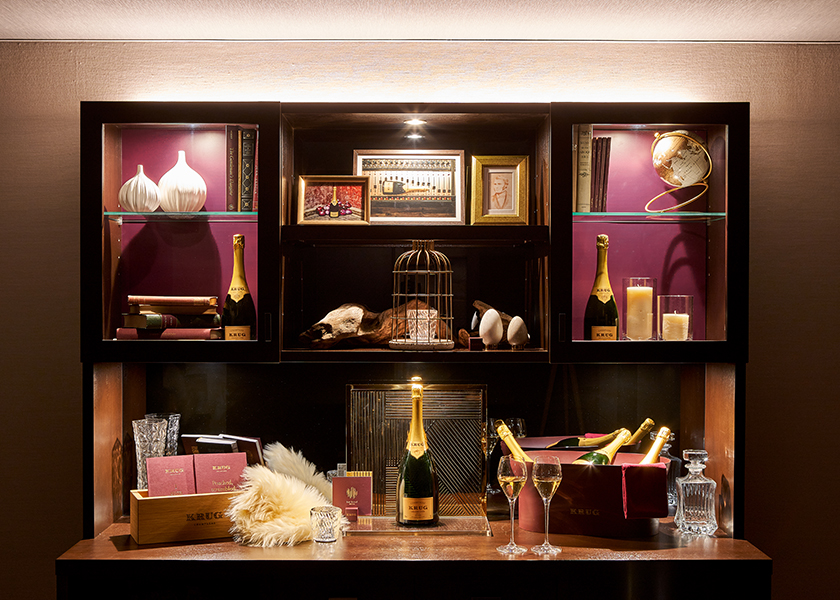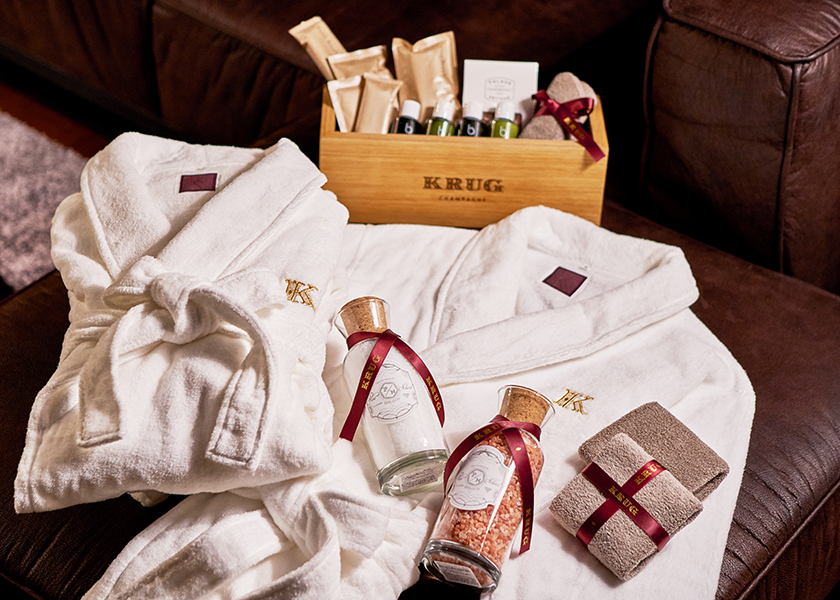 barhotelのお部屋をクリュッグカラーに彩ったコラボレーションルームです。クリュッグの世界観を存分にご堪能いただける贅沢な空間。ソファコーナーに加えて小上がりの畳ルームをもつリビングルーム、広々としたベッドルームを完備。クリュッグとともに大切な人と箱根の雄大な景色もお楽しみいただけます。
A barhotel x KRUG collaboration room, designed with KRUG`s symbolic colors. Fully enjoy the luxurious themed ambience to your satisfaction. It is a fully furnished comfortable space with a sofa corner, a "Koagari" (a slightly raised tatami space in the living room), and a spacious bedroom. Be immersed in the gorgeous Hakone scenery with the finest champagne alongside someone special.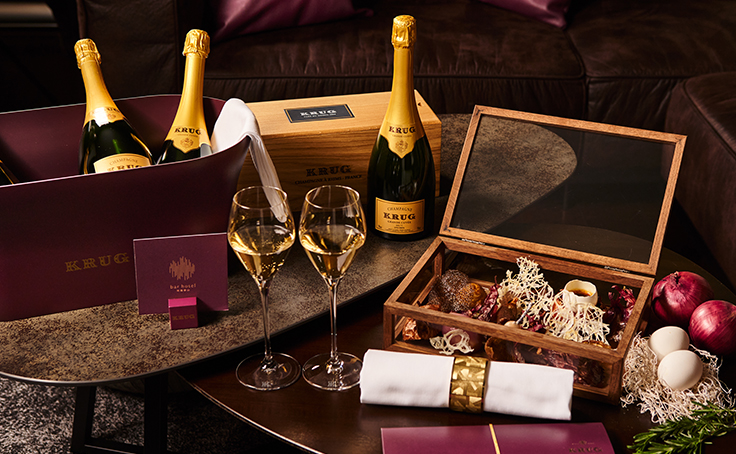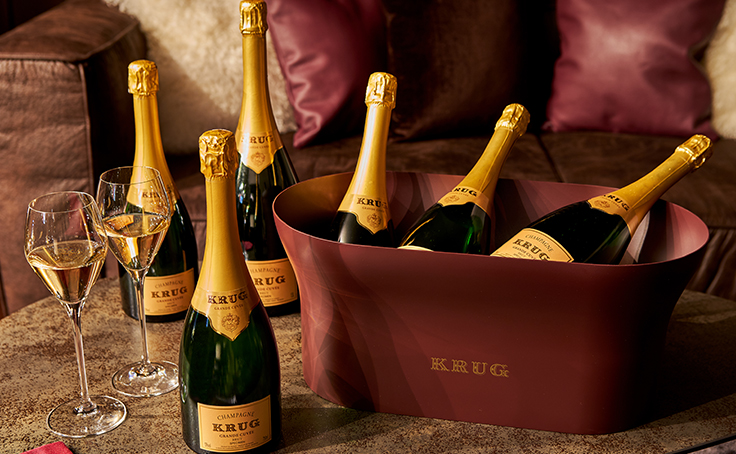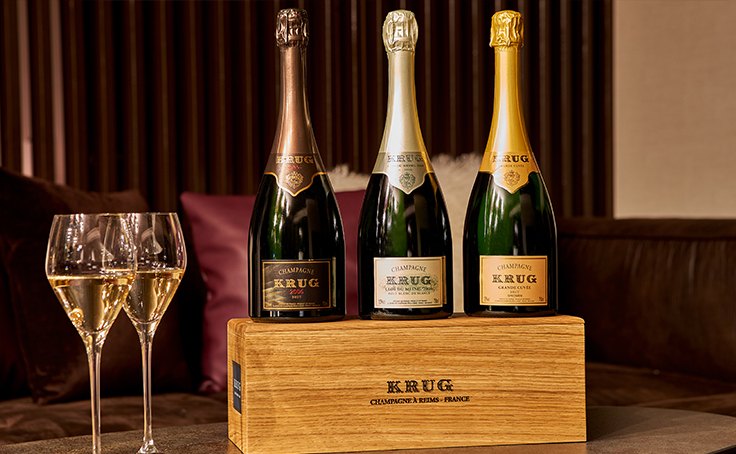 KRUG champagne
クリュッグ グランド・キュヴェは、数百にものぼる異なるヴィンテージのワインをブレンドしています。単一ヴィンテージでは出しえない個性的でふくよかな味わいと香りを生みだしています。ボトル裏のラベルに記載されている6桁「クリュッグiD」で、それぞれの隠れた物語を知ることができます。世界中から愛されているキュヴェ。思う存分お楽しみください。
Krug Grande Cuvée is a blend of over a hundred vintage wines. Blending many different wines from various years lends a fullness of flavors and aromas that would be impossible to express with the wines of a single year. Enhance your KRUG experience one step further and discover the hidden story of your champagne by entering the 6-digit "KRUG iD" on the back label of the bottle. Please enjoy to your heart`s content the pleasant taste of Cuvée that is loved worldwide.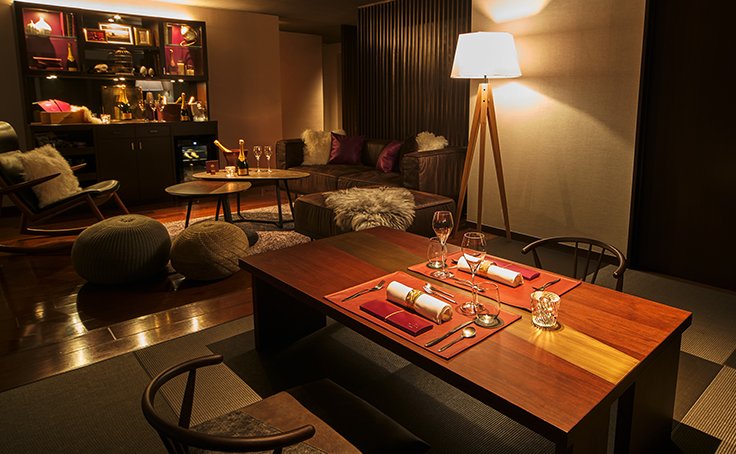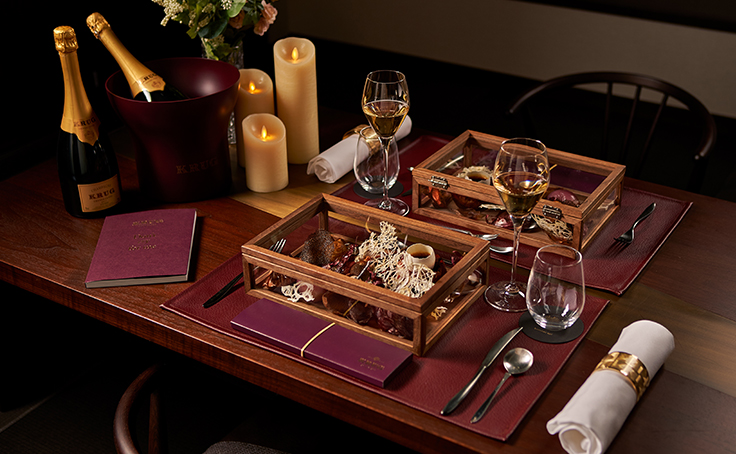 japanese room
親日家でもある6代目当主のオリヴィエ・クリュッグ氏。オリヴィエ氏の思いをヒントにした、ラグジュアリーな畳ルームをご用意しています。「畳でKRUGを」をコンセプトに、オリジナルのbar座布団で居心地のよい空間をつくり出しています。こちらのテーブルでもウェルカムプレートやバーフードもお召し上がり頂けます。
The luxurious tatami room is inspired by Olivier Krug, the sixth-generation owner who loves Japan. Furnished with our original bar cushions, a relaxing space is presented with the concept of "Enjoying KRUG on tatami". You can also have a pleasant time with welcome plates and bar food at this table.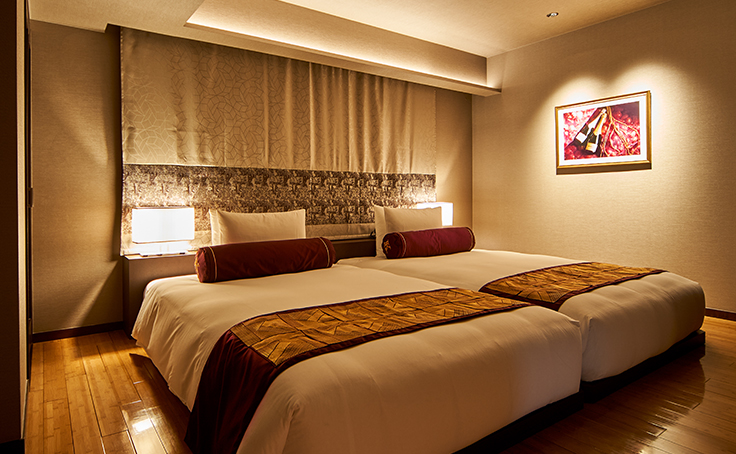 bed room
クリュッグロゴをあしらえたインテリアやアートが飾られた寝室。豊かなスプリング性能を誇るシモンズの7.5インチ(約19㎝)ポケットコイルマットレスを使用。豪華なピロートップと、高級ホテルのスタンダードであるダブルクッション仕様で、包み込まれる寝心地をお届けします。
The bedroom interior and art items are decorated and arranged with the Krug logo. The bed is a 7.5 inch (19cm) Pocket coil Simons mattress with high quality springs. You will blissfully fall asleep cuddled by a comfortable pillow top and double cushion, which is standard for luxury hotels.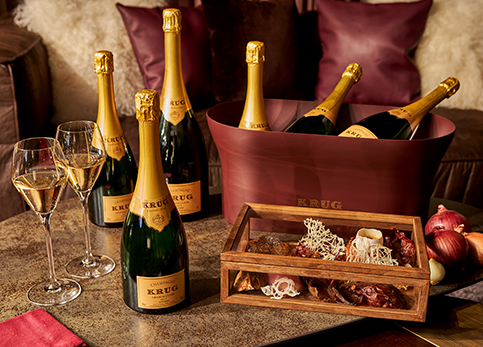 free-flowing KRUG
乾杯でチェックイン。至高のフリーフローが始まります。お食事のバーフードも、オールインクルーシブ。ウェルカムプレートには、シャンパーニュに合わせたシェフの一品もご用意いたしました。クリュッグとのペアリングをお楽しみください。
Say "cheers!" as you check in and indulge in a sublime unlimited tasting experience. Savor the all-inclusive bar food and enjoy the Chef`s special served on the welcome plate, which beautifully pairs with KRUG champagne.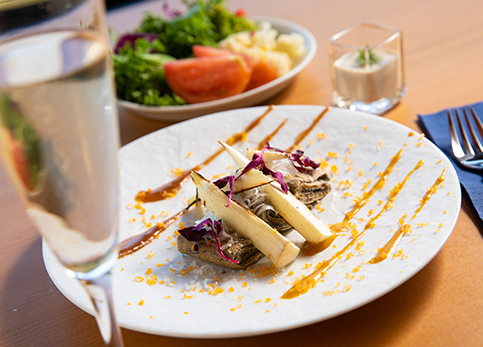 champagne brunch
緑あふれる爽やかなloungeでシャンパンブランチをご用意しています。遅く起きた朝には、優しいスープやコーヒーを味わいながらお食事を。もちろん、シャンパンからのスタートも良し、窓から見える浅間山の絶景もお楽しみください。
We offer a champagne brunch at the lounge with abundant greenery. Enjoy some comforting soup and coffee along with your meal while you slowly wake up during the late morning. A glass of champagne would be a nice starter for the day as well, while admiring the breathtaking view of Mt. Asama through the window.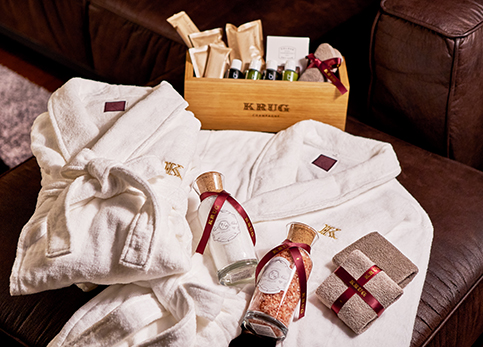 design
Room Kをご予約のお客様だけが過ごせる、特別なお部屋です。リビングや照明、バスローブ、オリジナルの箸など、クリュッグラヴァーのためにクリュッグの世界観を表現したインテリアアイテムをご用意いたしました。
A special room prepared for the guests who have reserved Room K. It is exclusively designed for Krug lovers arranged with KRUG inspired interior, bathrobes, original chopsticks, and lighting in the living room.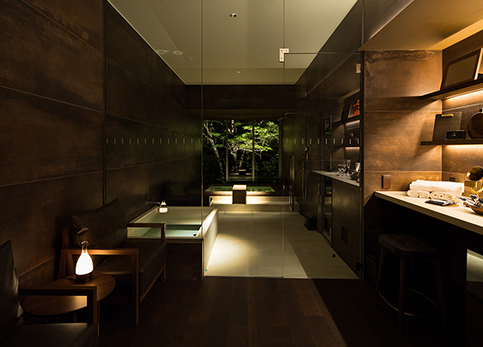 private spa & bar
Room Kをご予約頂いたお客様には、貸切風呂をご利用いただけます。バーカウンターを併設している半露天の温泉とサウナ、水風呂。温泉に入りながらクリュッグをお楽しみいただけます。(90分)
A private spa awaits the guests who have reserved Room K. Enjoy a semi-outside onsen spring bath, sauna, and cold bath annexed with a bar counter. Unwind with KRUG while relaxing in the onsen. (90min)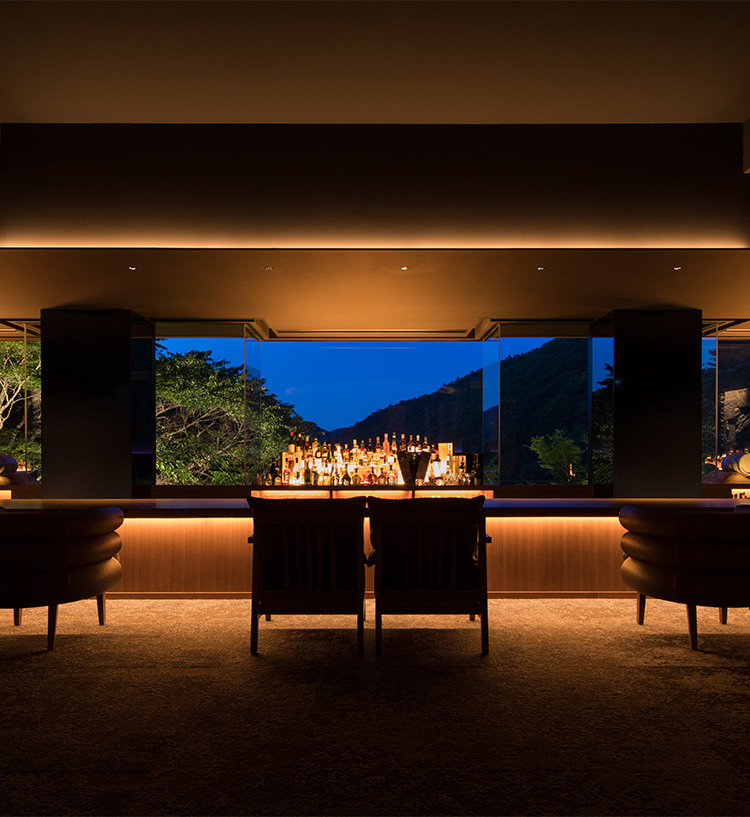 the bar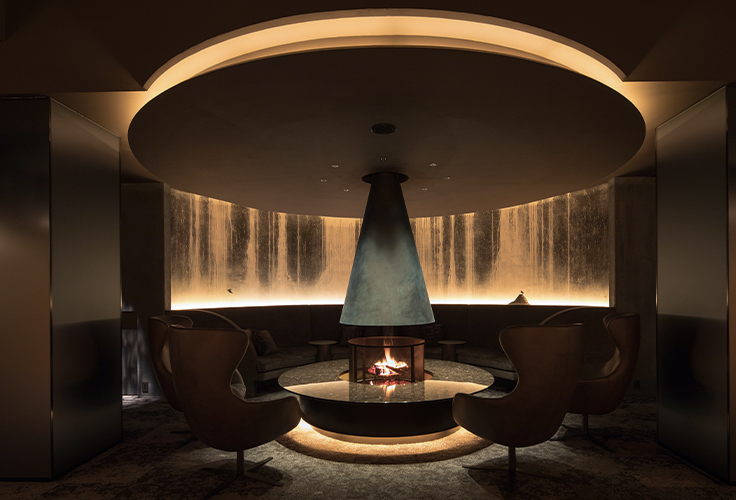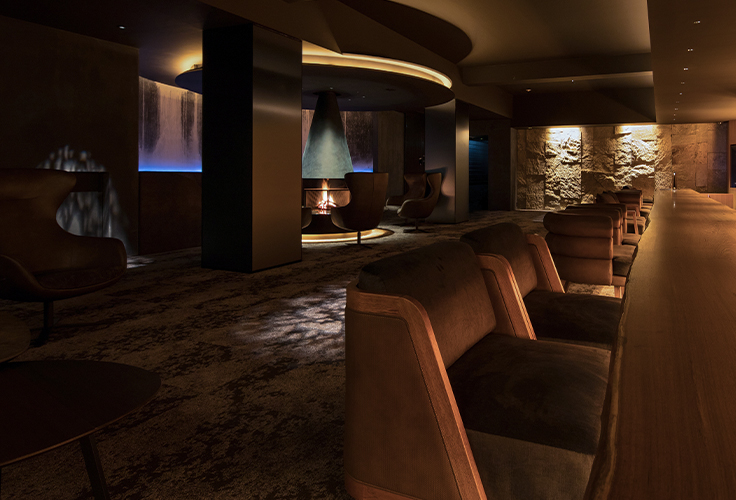 the bar
エントランスを入れば目の前に広がるのは厳かで穏やかな洗練されたbar。厳選された銘酒やカクテルを、大切な方とお楽しみください。
The bar offers genteel dignity just inside our main entrance. Carefully selected spirits and cocktails help guests enjoy an unforgettable welcome in the midst of pristine natural beauty.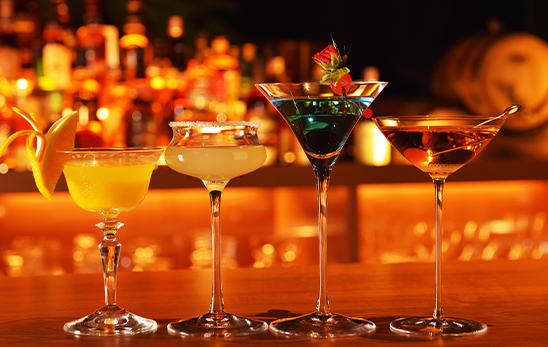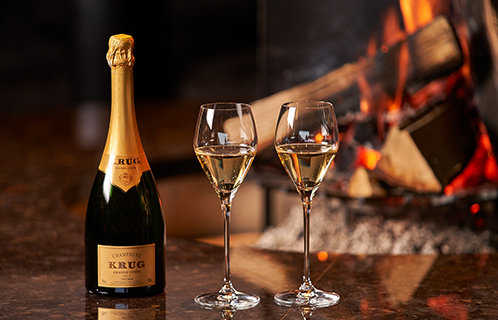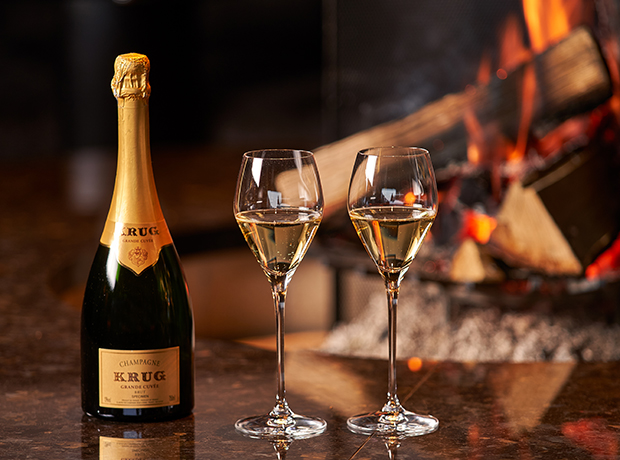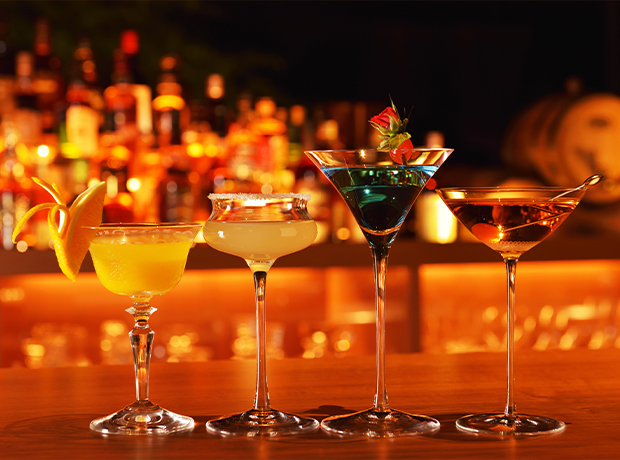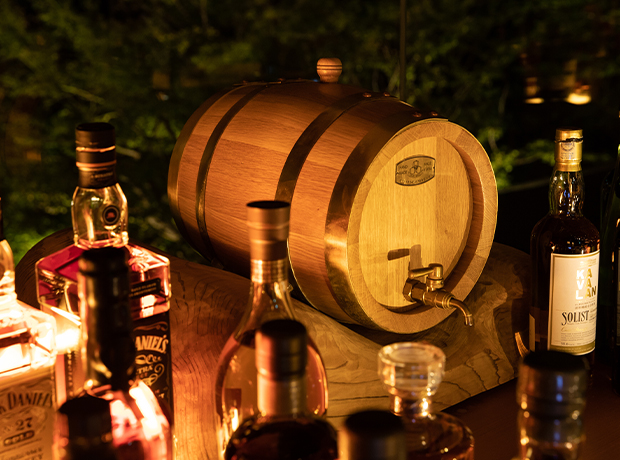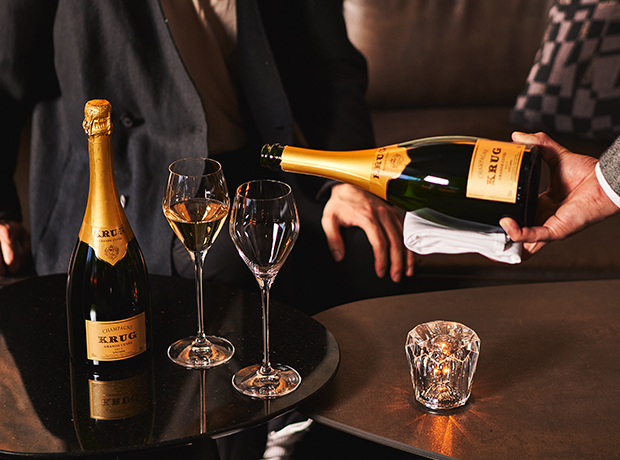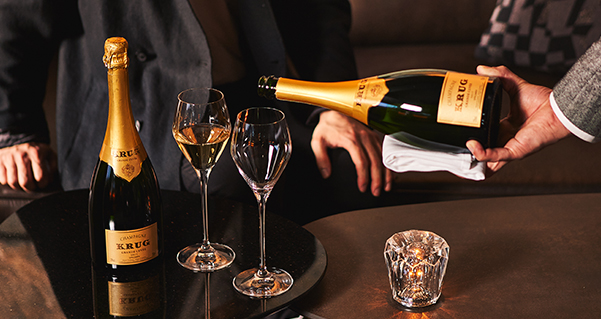 drink

数百種類ものウィスキーボトル、季節にあわせたカザンオリジナルカクテルや、熟練のバーテンダーが厳選した銘酒をご堪能ください。

Enjoy hundreds of types of whiskey, seasonal Kazan original cocktails, and spirits carefully selected by an experienced bartender.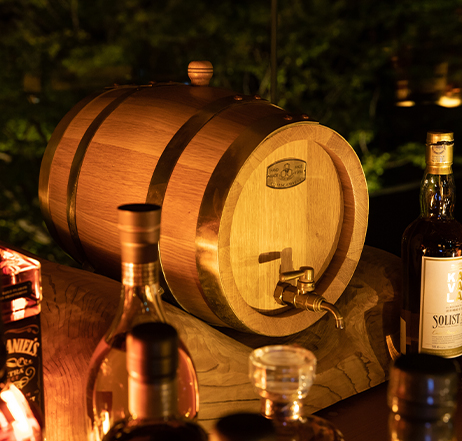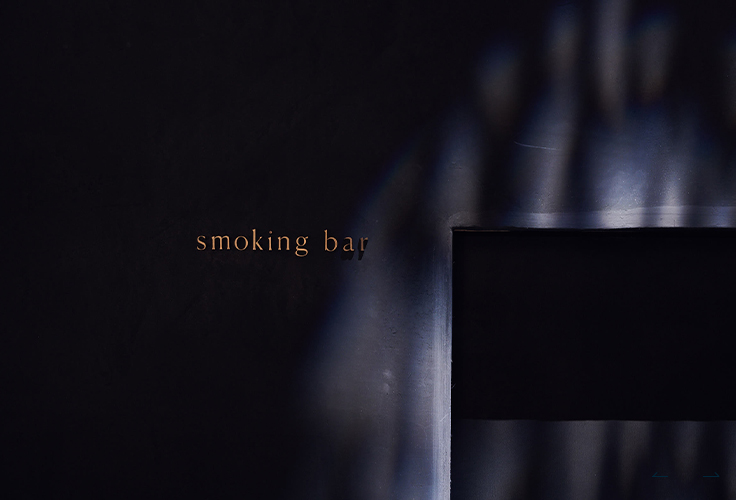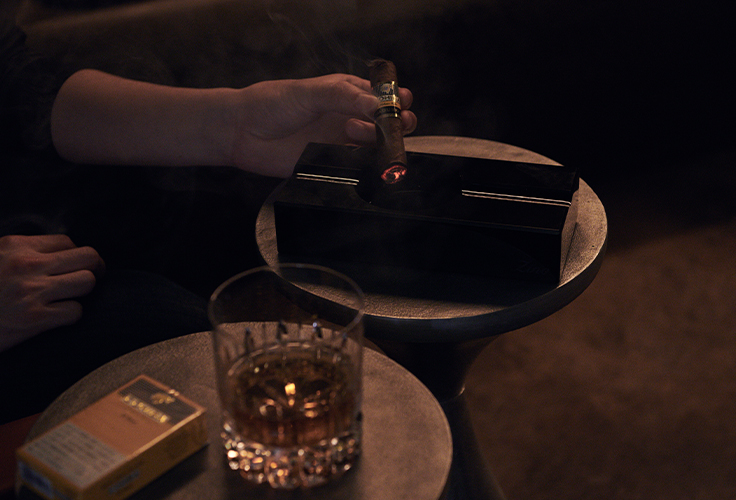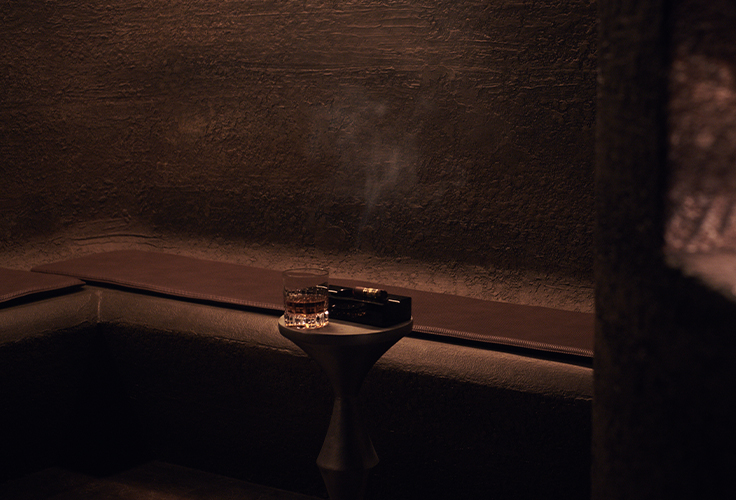 smoking bar
お酒を持ち込める落ち着いたスモーキングエリアをご用意しています。多種多様なお酒と共に自分だけの時間をお愉しみください。
We provide a relaxed smoking area where you can bring your drink. Enjoy time here with a multitude of drink selections.
お部屋の設備 / room facility
客室備品

液晶テレビ / 冷蔵庫 / ドライヤー / 電気ケトル / 非常用ペンライト / 金庫 / コーヒーメーカー / グラス、カップ / タオル、アメニティ各種 / 靴べら / スリッパ、館内履き
guest room furnishing

LED TV, refrigerator, dryer, electric kettle, emergency penlight, safe, coffee maker, glasses/cups, towel/amenities, shoehorn, slippers/room shoes
お貸出し品

アイロン&アイロン台 / ズボンプレッサー / 加湿器 / 携帯充電器 / ヘアアイロン / ブランケット
lending item

Iron & ironing board, pants press, humidifier, portable charger, curling iron, scale, blanket
インターネットのご利用

全客室に設置されている無線LANにて無料でご利用いただけます。
internet use

Wi-Fi is available free of charge in all guest rooms.