spa
箱根の息吹を感じながら
良質な湯を存分に満喫
館内にある2つの温泉
「spa kazanスパ カザン」と「spa hinokiスパ ヒノキ」
温泉とお酒を楽しめる
プライベートな空間
「private spa&barプライベート スパ&バー」
浅間山や明星ヶ岳を望む眺望は
開放感に溢れ
バーで寛いだ心と身体が
そのまま自然に溶け込むような
一体感を感じる
箱根山の凛と澄んだ空気
そして季節ごとに表情を変える景観
流麗に流れ落ちる千条の滝
それらの美しき自然に包まれながら
心ゆくまで箱根の良質な湯を
存分に満喫する
Enjoy a luxuriuos bath in the open, fresh air of Hakone.
There are two hot springs within our hotel.
"spa kazan" and "spa hinoki"
Enjoy a hot spring bath and drinks.
Our "private spa & bar" is an exclusive, fully private space.
The expansive view of Mount Asama and Myojogatake will provide a sense of freedom and awe.
As you relax here, your mind and body become one with nature.
The pure, clear air of Mount Hakone and a scenery with a new look and new expression at every season.
Together with the elegantly flowing Chisuji Falls, guests enjoy Hakone's renown baths to their heart's content, all the while in the warm embrace of indescribably beautiful nature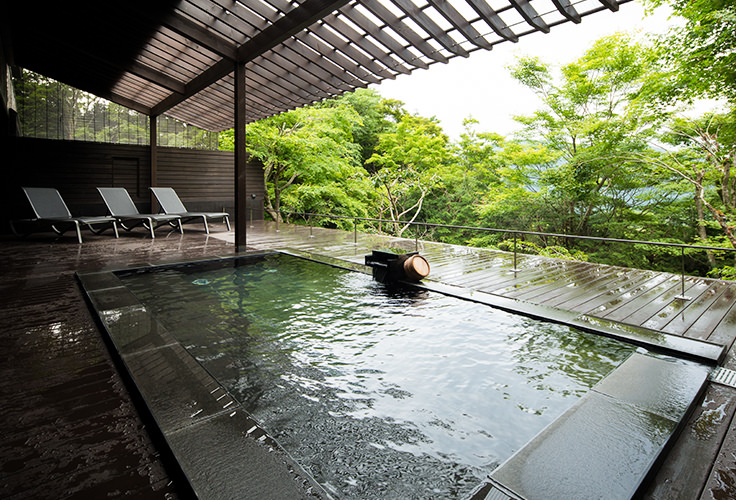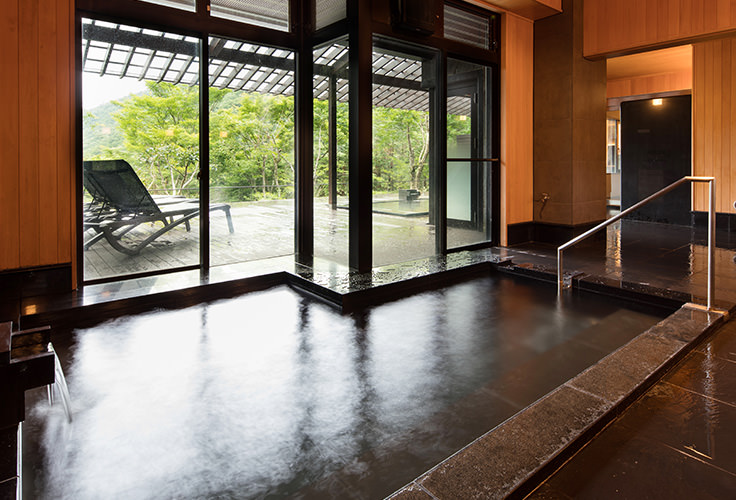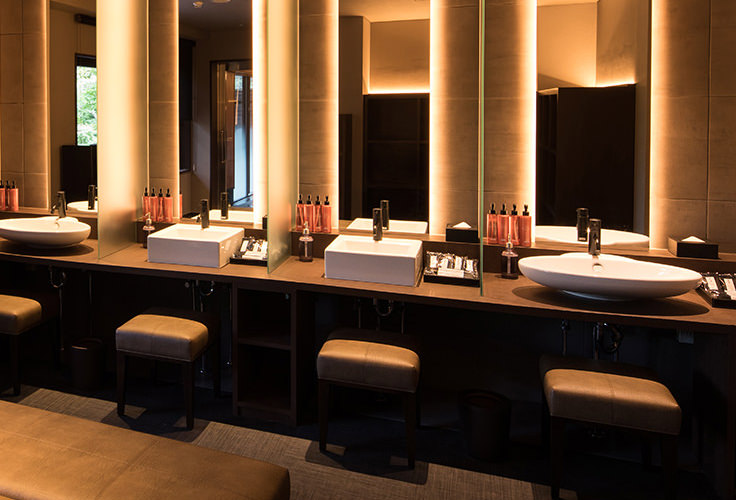 spa kazan
露天風呂、サウナ、水風呂を完備した大浴場。開放的な窓からは、緑広がる箱根の自然を一望できます。夕日に染まる山々の陰影、朝日に照らされた空と森のグラデーション…刻一刻と変化する美しい景色をご堪能ください
夜 18:00~3:00
朝 6:00~13:00
spa kazanは夜=女湯、朝=男湯
This is a large bath house fully equipped with an open-air bath, sauna, and cold water bath. spa kazan offers a view of Hakone's green nature from a window open wide to the world. Here, mountain shadows are tinted by the evening sun and gradations of sky and forest are slowly drenched in fresh morning light. Guests enjoy scenery with a constantly changing expression, season to season and moment to moment.
Evening hours: 6 pm to 3 am
Morning hour: 6 am to 1 pm
At spa kazan, women can bathe at night and men in the morning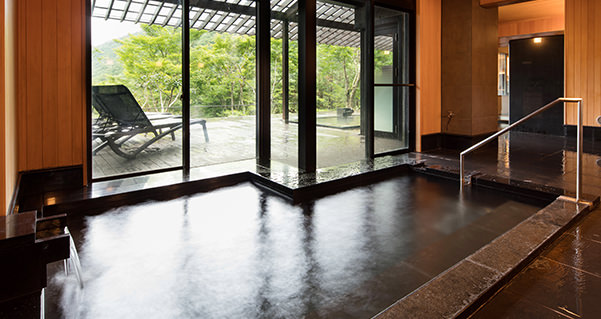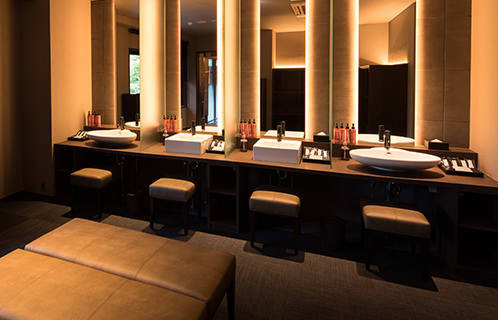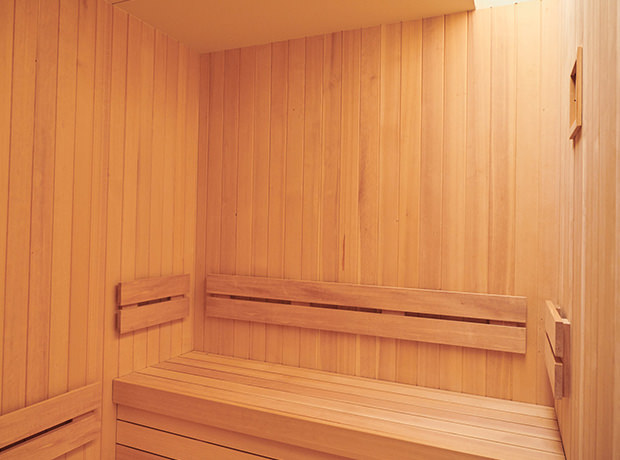 sauna

大浴場内にサウナをご用意。
サウナで心地よい汗を流していただけます。

The large bath house has a sauna. Guests can enjoy a rejuvenating sauna experience any time during their stay.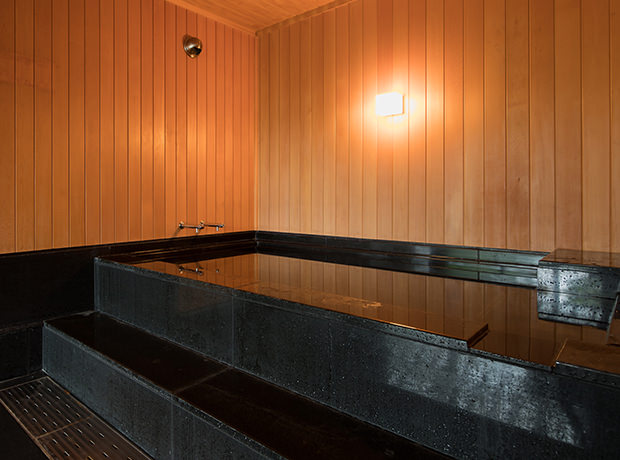 cold bath

サウナのお供に欠かせない水風呂も
大浴場内にご用意しています。

As an essential aspect of any sauna experience, the large bath house contains a cold bath, for cold/hot body care.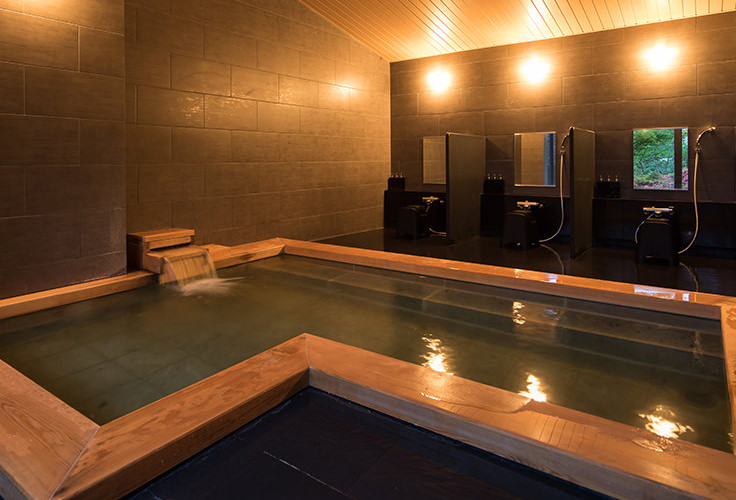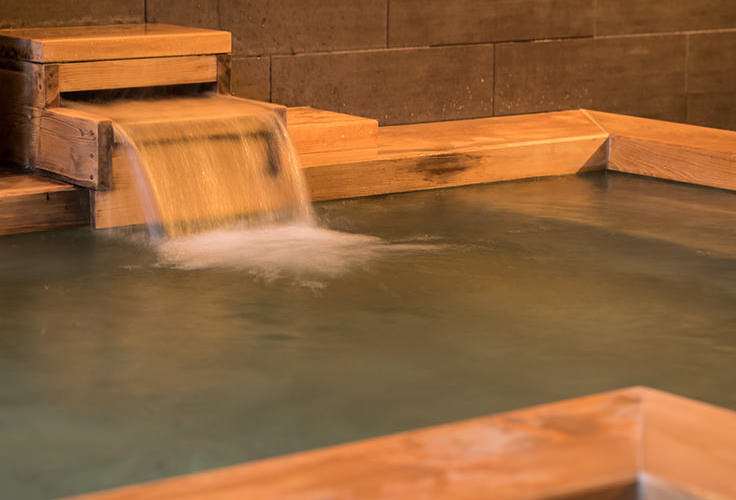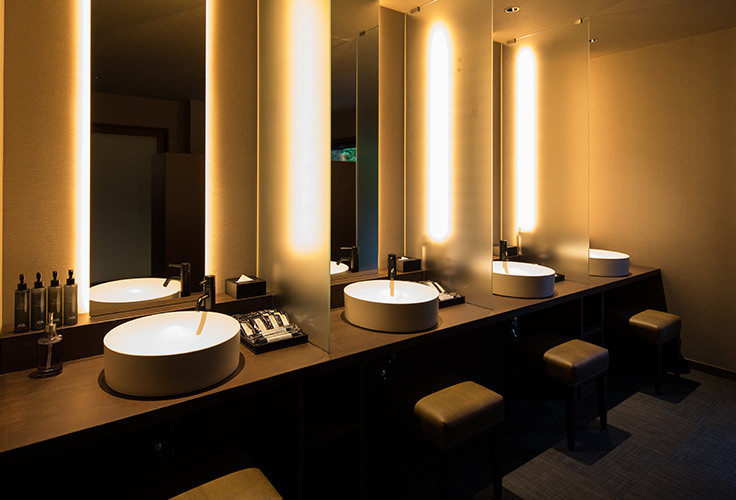 spa hinoki
ヒノキ香る浴槽に、窓からは緑広がる箱根の自然を一望できます。景色はもちろんのこと香りも楽しめ、心からリラックスしていただけます。
夜 18:00~3:00
朝 6:00~13:00
spa hinokiは夜=男湯、朝=女湯
View Hakone's green nature from a cypress aroma bath. Enjoy the scenery and aroma, and allow yourself total relaxation.
Evening hours: 6 pm to 3 am
Morning hours: 6 am to 1 pm
At spa hinoki, men can bathe at night and women in the morning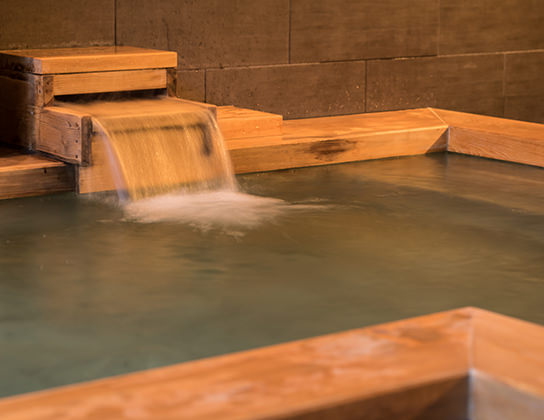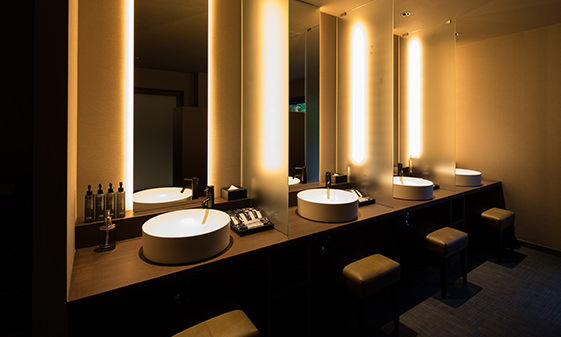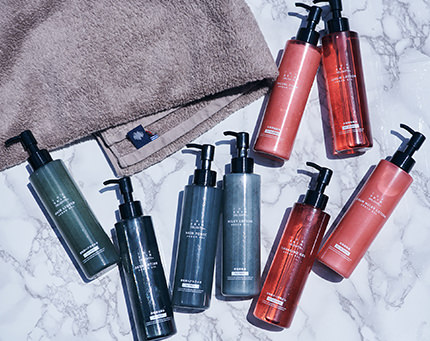 amenities
バスタイムのひとときを、より一層心地よい時間へと導いてくれるアメニティ。リラックスできる香りや使い心地の良さはもちろんのこと、美髪・美肌への効果もある上質なアイテムをご用意しています。
Amenities are offered guests to enhance their special bath time. All amenities are high-quality items with a relaxing scent, are pleasant to use and offer benefits for hair and skin.
注意事項 / notes
入れ墨・タトゥー・タトゥーシール・ボディペイント等をされている方の浴場入室は固くお断りします。
※注意を守らず入浴した場合、即退出していただきます。
暴力団関係者の入館はお断りします。
皮膚に疾患のある方、伝染する疾患をお持ちの方の入浴はご遠慮ください。
Please note that individuals with a tattoo, tattoo seal, or body paint will be prohibited from entering the bath house.
Note: Those violating this stipulation will be asked to leave immediately.
Any members of anti-social, illegal organizations i.e. gangs, are prohibited from entering the hotel.
Guests with a skin condition or other contagious infection, etc., are asked to refrain from bathing.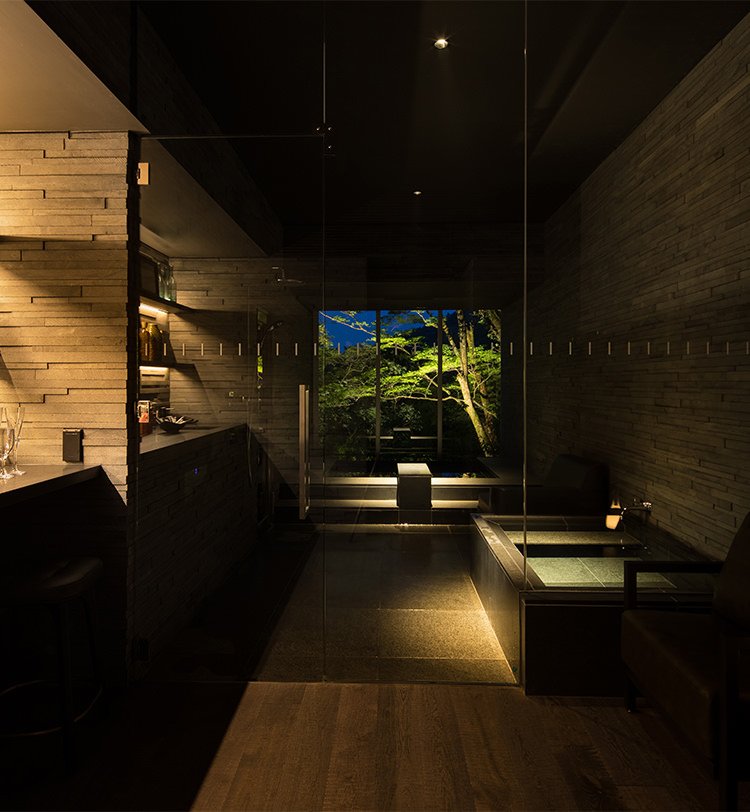 spa -private spa & bar-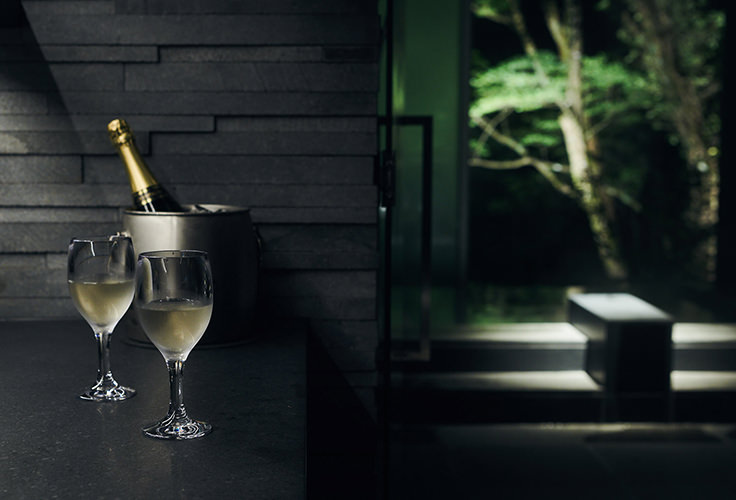 private
spa & bar
窓を開け放つと半露天となる温泉、そしてサウナを備えた表情の異なる2つのプライベート空間。お好みのお酒を味わいながらゆっくりとお過ごしください。
Two diverse private spaces, a hot spring where you can open the window for a partial open-air experience, and a sauna. Relax here and enjoy your favorite drink.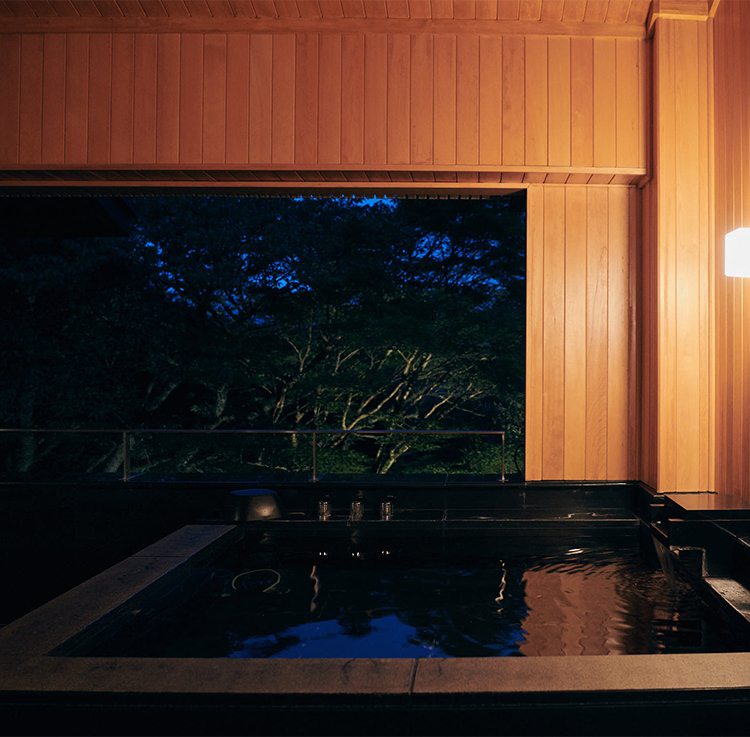 spa -presidential suite-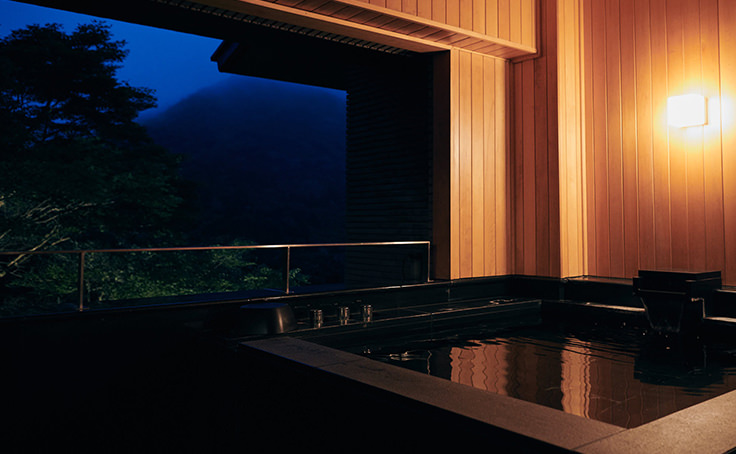 presidential suite
bar hotel箱根香山で唯一露天風呂を完備したスイートルーム。箱根有数の広々としたラグジュアリー空間にはbarも完備し、パーティルームとしてもご利用いただけます。
The only suite room at bar hotel hakone kazan with an open-air bath. This is the most spacious room in Hakone and we hope guests will enjoy the luxury found in this perfectly appointed bar suite. The space can also be used for gatherings and meetings per guests' convenience.